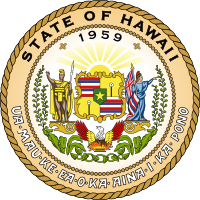 Craigslist Hawaii searches all of the following locations.
craigslist cities: Hawaii
---
Hawaii Craigslist Search looks at the entire state of hawaii and covers a total of 10,931 sq mi. Hawaii has an area ranking of 43rd in the country, with a population of 1,428,557 people, giving hawaii a population ranking of 40th highest in the U.S. with an average population density of 214 people per square miles.
Hawaii has the following nick names: The Aloha State, Paradise of the Pacific, The Islands of Aloha
Hawaii has the following state moto: Ua Mau ke Ea o ka ʻĀina i ka Pono – (The Life of the Land is Perpetuated in Righteousness)
The people who live in Hawaii are known as: Hawaiian
Hawaii's largest metro area is Island of Oahu
Hawaii was admitted into the United States on August 21, 1959, before it was admitted into the union, it was known as the Territory of Hawaii. Hawaii was the 50th state to join the United States.
Hawaii has the following state emblems:

State Bird: Nene,

State Fish: Humuhumunukunukuāpuaʻa,
State Flower: Pua aloalo,

State Insect: Pulelehua,


State Tree: Kukui tree,


State Dance: Hula,
State Food: Kalo (taro),

State Gemstone: ʻĒkaha kū moana (black coral),





State Song: Hawaiʻi Ponoʻi ,